Music is something that we all have in common. Everyone enjoys listening to a certain type of music or a certain song that appeals to them. The thing I have always wondered, however, is why people enjoy music so much. It's everywhere; from adverts to on the radio in shops. Most of the time we don't even notice that it's there.
I've spoken to five different people to get their thoughts and views on why music is so close to our hearts. They're all from different backgrounds and they all do different things in the world but they all enjoy music and the spirituality it brings for them.

I first wanted to look at the effect of music on the emotions and how it can alter them either positively or negatively and how this can help in the long term.
Niamh Ni Bhroin is a singer/songwriter who is known as the Singing Warrior. She had an abusive past that ran from childhood through to adulthood. She undertook a Shamanic exercise in 2010 and since then has become unstoppable, using music as a creative source of freedom and healing. She believes that the body and soul needs a creative output to make sure it functions correctly;
Our sub-conscious body-soul seems to react to the playing or experience of music. There is nothing more powerful than to experience feelings when listening to a certain song or creating music to help others. These gifts are paramount to helping us remain healthy on a spiritual level.

niamh ni Bhroin

Mike Stygal is a practising Pagan heavily involved in the Pagan Federation in London. He has explained that though some of the music he chooses is spiritual, he would be lying if he claimed it all were.
Some music I choose to listen to consciously because of the spiritual connection. Most music because it appeals to me. I could probably invent spiritual connections for all the music I listen to. But it would be pure invention.

mike stygal
So keeping this in mind, the spirit is something that needs to be fed happiness to keep the entire body satisfied. If you think about the example of watching a scary film, it's more than likely the music which will put you on edge and make it seem scarier than it is; same as with a sad film. These things are put in there to appeal to all levels of your senses.
Musicians have a lot in common with the creators of films and movies- they piece together songs and lyrics to make the people listening take notice and understand what they're saying. The urge to create is something which comes naturally to all humans and for most, music is an outlet of inner thoughts and emotions.
OMNIA, a PaganFolk band managed independently by Jenny and Steve Sic Evans van der Harten believe that the world needs more spirit and nature in it.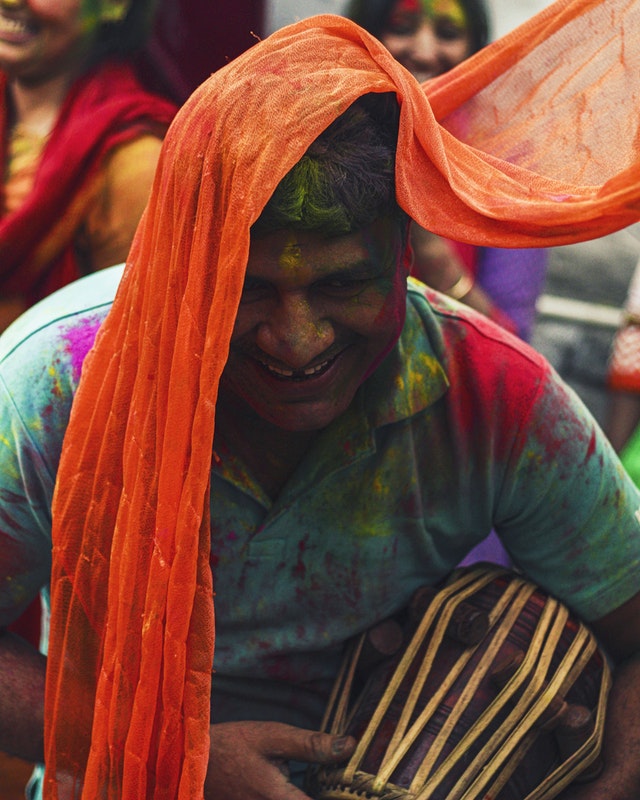 Our inspiration comes, as always, from nature and life. Most of our songs are written in a wooden chalet in the Belgian Ardennes, in the middle of a forest. The peace we find there brings us music and ideas… OMNIA grows like a tree, organically, and we never really know beforehand where the next branch is going to sprout from, or where the saplings take root.

omnia
Adam Broadhurst is the singer of Under A Banner, an alternative rock band from Wolverhampton with a very real message. He believes that music is a very good place for escapism, to lose yourself when things might get too much.
I have always found solace and escapism to be inherent in music… I'd much rather sing and play an acoustic guitar under a tree than sit in any kind of office and type or fill in a form; music is magic and I'm a hippy at heart…

Adam broadhurst, Under a banner
So that's just music in general. When it comes to more spiritual-based music, such as shamanic drumming, it can all get a little different and intense. The shamanic drum is used as a vehicle or a 'horse' for the shaman to trance and go somewhere on a journey within themselves. Drumming techniques are a widely used method for this.
Mike Stygal uses different drumming methods for journeys;
Shamanic drumming can be an aid to entering into an altered state of consciousness…. a trance-like state that can enable me to enter into communication with the spirit realm.

Mike stygal
Once in the trance state Ross Heaven, a shamanic practitioner and leader of many courses in the ways of being a shaman; uses Icaros or medicine songs in plant ceremonies in Peru to heal and free the spirits of people who need it. Taken from an article he has written on ArticlesBase.com he explains the use of the Icaros.
Icaros may be magical chants or a melody that is whistled, sung, or whispered into the ayahuasca brew. They may also be sung directly into the energy field of a person who is to be healed during a ceremony. An icaro can be regarded as an energetic force charged with positive or healing intent that the shaman stores inside his body and are able to transmit to another person or to the brew itself so that this positive energy is ingested when the mixture is drunk. There are precise and specific icaros for many different purposes – to cure snake bites, for example, or to clarify the vision during ayahuasca ceremonies, to communicate with the spirit world, or even to win the love of a woman…

Ross heaven, the four gates
Shamans are incredible healers with potent and powerful abilities to help anyone who needs it. Personal healing is another thing that most people in this 21st-century world are seeking. You can see it in the number of self-help books which are put out into bookshelves the world over- everyone wants to be happy because all their energy is being expended into someone else's business or money without them thinking about it. If everyone were to get a job somewhere they love and sing along and dance to the songs they enjoy, they would be living a much happier existence.
Niamh believes everyone has a healing song that they should embrace and use whenever necessary.
We are all Wounded Warriors and the greatest tools that we can utilize in 'holding our own medicine' is through our creativity. It is imagination that helps us move beyond the world of the reality we have created in our Society…It is up to the individual to release the anchors of negative beliefs to move forward. Everybody has their own 'healing song

Niamh ni bhroin
OMNIA also want to spread the idea of healing the world and therefore healing each other through that. When asked who they would like to spend an evening with, they chose Xavier Rudd; a wonderful musician and multi-tasker playing the didgeridoo, guitar, drums and all kinds of other instruments at the same time. He is indeed a one-man band.
He (Xavier) is for me the biggest solace, in knowing that there are people that think and feel the same way as we do, trying to open people's eyes, and he is such a positive energy, not giving up hope, although the times are very trying and the mutant-monkey-world is really going berserk killing our Mother…We often feel very lonely and lost, and his music gives us the strength to go on and at least try to make a difference.

Omnia
Adam from Under a Banner also feels that being able to interact with other musicians and the fans is a healing experience as it's a unity of feelings;
…playing musical instruments, singing and feeding off the energy of others, who are either doing the same or being receptive to what you are doing, is definitely a very real form of spirituality; it is a way of tapping into the essence of what lies beyond.

Adam broadhurst – Under a banner
So after listening to what different people have to say, I believe that dancing and music is one of the best forms of therapy. So if you're feeling low, get up and put on a song- or play one if you can!- and just enjoy the feeling. I'm sure it will help.
This article was originally featured in Indie Shaman Magazine